With 2021 now in the rearview mirror, resolutions made in the lead-up to the new year are now in full swing. For some, the new year is a symbolic reset. For others, it's a chance to strengthen a skill or tackle a new goal.
For Albert Reed, change had nothing to do with a New Year's resolution.
His motivation for self-improvement boiled down to one word: survival.
"I knew that if I remained in the state that I was in mentally and spiritually," Albert remembers, "I would not be able to survive."   
He's coming up on the three-year anniversary of his release from federal prison. Traveling back in time, he details his journey and relentless pursuit of redemption…
The year was 1994.  
Having already endured more at 24 than any person ever should, Albert found himself facing drug possession and trafficking charges. Rather than plea-bargaining for a 30-year sentence, he decided to go to trial, where he ultimately lost.
That same year saw the enactment of the 1994 crime bill—a problematic piece of legislation that included a federal three-strikes provision. Per the law's sentencing guidelines, a "third strike" carried a mandatory life sentence.
Though the provision was presented as a crackdown on habitual violent crime, it wasn't quite as straightforward in practice. Any serious offense was deemed a strike, lumping violent offenses with nonviolent drug-related offenses.
The results were particularly devastating to marginalized communities. Fast forward to the present, and people of color make up over half of our nation's prison population. The stark reality is that the excessively punitive effects of that policy are still felt today.
Rewind again.
The year was 1994, and Albert Reed had just received his third strike—the last of three drug-related convictions.
He was ordered to the U.S. Penitentiary in Lewisburg, Pennsylvania.  
Coping with this new normal wouldn't be easy. And yet, despite the heavy-handed sentence, Albert remained confident that his case would eventually be revisited.
He knew it wasn't a matter of if but when, noting, "I had to be prepared when the time came for my release."
Albert wasted no time turning his attention to the facility's law library. There, he absorbed as much information as possible, knowing it was, in his words, "the only way out."  
But Albert was no stranger to higher learning. He had earned his GED and studied at Denmark Technical College in Denmark, South Carolina before his incarceration. 
As he quenched his thirst for legal knowledge, Albert began branching out into other areas of study as well. With the help of his family, who sent him books and magazines, he developed an understanding of business and finance.
Learning about entrepreneurship prompted him to begin mapping out his future post-incarceration. "[Education] sparked my mind and assisted in formalizing plans to own my own business upon release," he says.
But he didn't stop there.
After being relocated to different facilities with varying security levels, the scarcity of educational opportunities really struck Albert.
From this, he could draw parallels to life on the outside. He was painfully aware of the disparities in education communities like his suffer. Those disparities lead to self-perpetuating problems and, in his words, "extreme" damage" within inner-city communities—something Albert still knows all too well.
Behind bars, that was out of his control.
What he could control, however, was access to education from the inside. So, the aspiring entrepreneur and multidisciplinary student became the teacher.  
As he sagely puts it, "With knowledge comes power and responsibility."
One day at a time, he continued down the path to redemption, helping others help themselves through education.
The years went by, but he was never one to lose focus or faith. He eventually found himself at the U.S. Penitentiary in Pollock, Louisiana.
Finally, in May 2019, Albert received the news he had waited more than 24 years for: He was going home.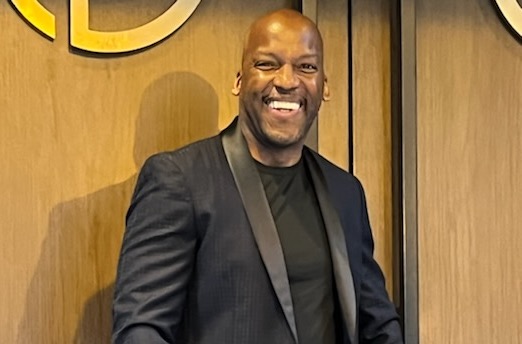 As one of a few thousand inmates granted release by the First Step Act, Albert could start the next chapter outside of a correctional facility. This exciting new chapter has included connecting more deeply with family and realizing his entrepreneurial dream.
Establishing his consulting firm, Albert Reed and Associates, has given Albert a fresh sense of purpose. His firm specializes in helping those once system-involved find avenues for employment—a fitting continuation of his story.
"We have helped to uplift quite a few people in finding their own form of redemption by clarifying one's vision, ideas, hopes and dreams," he says.   
But Albert acknowledges there's a lot of work to be done.
He puts it this way: "If more of us formerly incarcerated members of society would create their own businesses, I believe it would go a long way in changing the perceptions held about those of us coming out of prison."
However, stigmas tied to prior incarceration cause many to set low expectations for themselves, leading to maladjustment. For a stigmatized person, it's difficult enough to find gainful employment; the odds of them starting a business are even slimmer.
Albert Reed and Associates looks to change that, breaking the mold in the public policy space. According to Albert, collateral consequences, by design, prevent the formerly incarcerated from becoming business owners.
The evidence backs up his claim.
A survey conducted by the Centre for Entrepreneurs found that, out of 95 participants currently serving time, 79% hoped to start their own business following release. Of 158 previously incarcerated people, 71% expressed interest in being business owners.
Yet, general skepticism and unfavorable social conditions make business ownership a challenging prospect for anyone who has done time.
As we look to the future, key questions must be addressed: Will we satisfy this appetite for entrepreneurship? Or will we turn our backs on people in search of redemption? 
For his part, Albert plans to do what he's always done: educate and serve. Through his efforts, he hopes to pave the way for others with a troubled past to begin anew.
"What I hope resonates [from my story]," he says, "is the ability to act and move in a positive direction, the ability to search out and find true freedom, joy and happiness in life."
All great redemption stories have a common thread: They empower others to write their own redemption story.
Albert Reed's story is a testament to that.